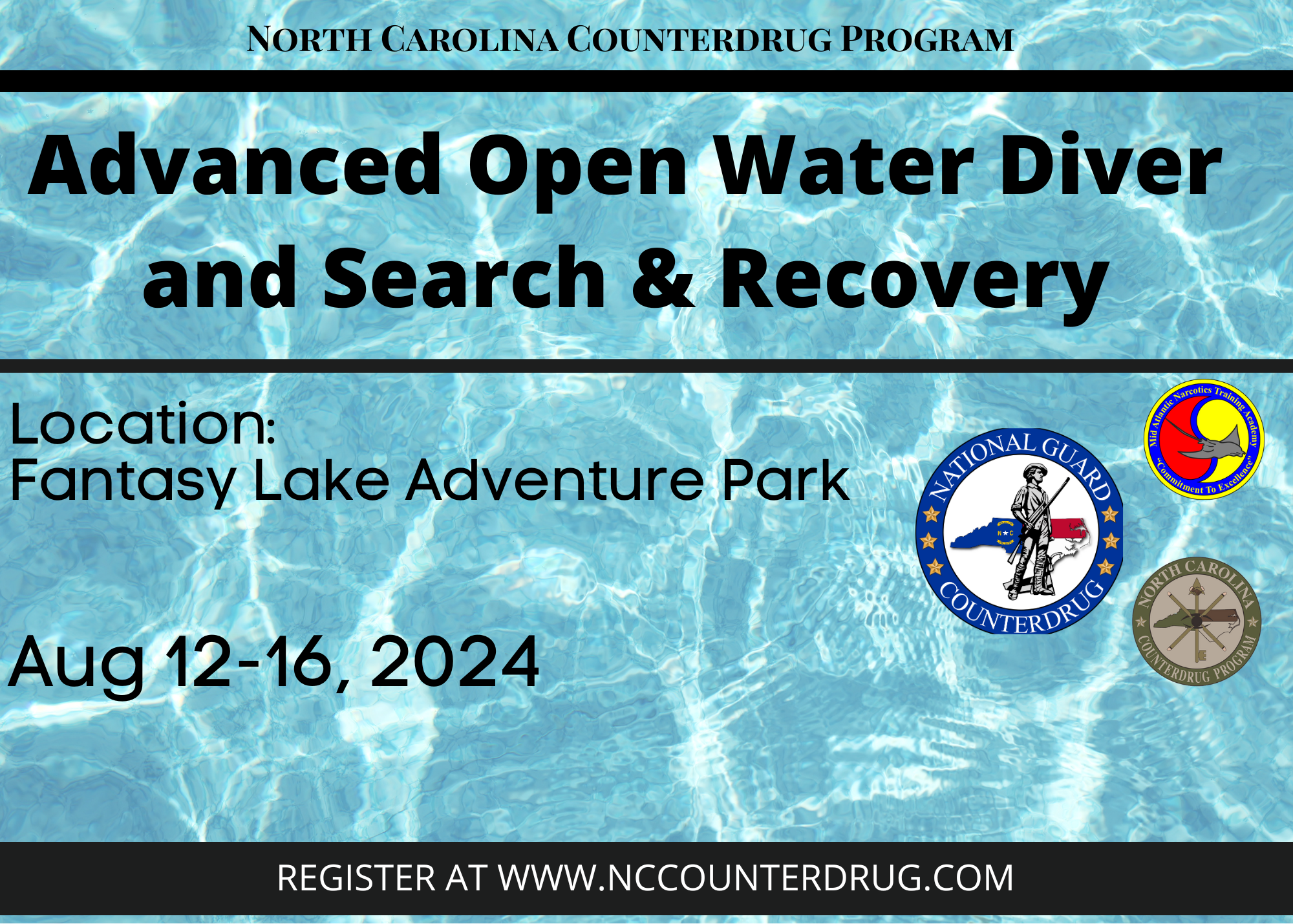 12 August, 2024 - 16 August, 2024




08:00 - 17:00
 Advanced Open Water Diver and Search & Recovery Diver: 
Location: Fantasy Lake Adventure Park, 3601 Quarry Rd, Wake Forest, NC 27587
Fee:  There is no fee for this training
Registration:  If registering more than one officer, please email with the names and business email addresses of the other officers who will be in attendance.
Length: 5 days (40 hours)
Designed For: This course is intended specifically for law enforcement and corrections officers actively engaged in diving or building a dept dive unit.
Instructor:  Pro Scuba Center
Prerequisites:
Course Information:
Lodging:  Responsibility of the officer and their sponsoring agency
Meals: Responsibility of the officer and their sponsoring agency
Equipment: All scuba gear provided by Pro Scuba Center, must bring items listed in prerequisites 
Description:
You'll hone your skills by completing five adventure dives that introduce you to:
Underwater navigation
Deeper water diving (typically anywhere from 60-100 feet)
Three more Adventure Dives of your choice
The Advanced Open Water Diver course helps you increase your confidence and build your scuba skills so you can become more comfortable in the water. This is a great way to get more dives under your belt while continuing to learn under the supervision of your PADI Instructor. This course builds on what you've learned and develops new capabilities by introducing you to new activities and new ways to have fun scuba diving.
MANTA training is provided free of charge to Law Enforcement Officers through a Governor's Crime Commission Grant and the NC National Guard Counterdrug Program.
For more information or to receive help in registering for a class, contact us at:
manta@nccounterdrug.com
984-664-6045/ 704-400-9960