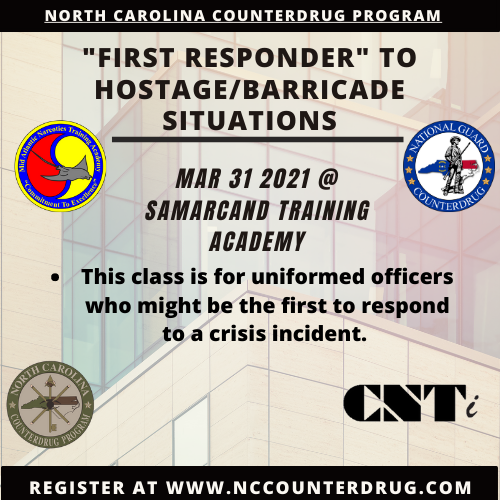 First Responder To Hostage/Barricade Situations


31 March, 2021




08:00 - 17:00
First Responder To Hostage/Barricade Situations- 31 Mar 2021
LOCATION: Samarcand Training Academy
3600 Samarcand Rd Eagle Springs, NC 27242
Fee:  There is no fee for this course.
Length: 1 day (8 Hours)
Designed For: Corrections officers and sworn law enforcement – federal, state, or local.
Lodging: Provided by Samarcand Training Academy.
***YOU MUST FILL OUT AND EMAIL THE CLICKABLE FORM BELOW OR YOU WILL NOT RECEIVE LODGING PROVIDED BY THE ACADEMY
Meals: Provided by Samarcand Training Academy
Instructor: Jeff Fluck
Description: This class is for uniformed officers who might be the first to respond to a crisis incident. They are exposed to proper initial response, pending specialized responders.
MANTA training is provided free of charge to Law Enforcement Officers through a Governor's Crime Commission Grant and the NC National Guard Counterdrug Program.
For more information or to receive help in registering for a class, contact us at:
manta@nccounterdrug.com
704-400-9960/ 984-664-6045