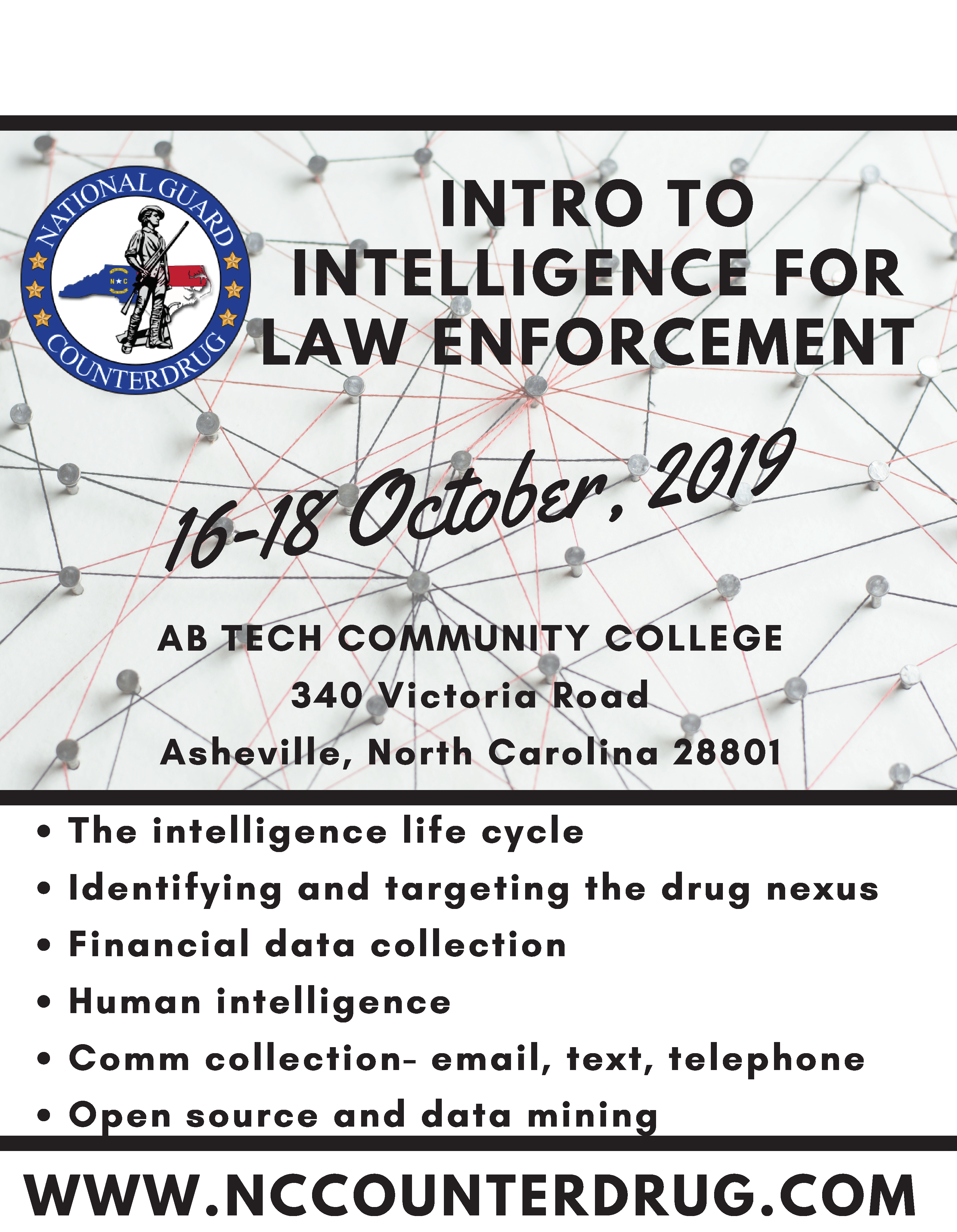 Event Phone: 984-664-7034
Intel for LEA


16 October, 2019 - 18 October, 2019




08:00 - 17:00
Introduction to Intelligence for Law Enforcement: October 16-18, 2019
Asheville-Buncombe Technical Community College – 340 Victoria Rd, Asheville, NC 28801
Fee:  There is no fee for this course.
Length: 3 days (24 Hours)
Designed For: Sworn Law Enforcement and Civilian Intelligence Analysts employed by LEA's – federal, state, or local.
Lodging, Meals, and Incidentals: Responsibility of the officer and their sponsoring agency
Instructor: Midwest Counterdrug Training Center
Description: Introduction to Intelligence is specifically developed to provide criminal justice and military personnel with a comprehensive understanding of the fundamental concepts, processes and disciplines associated with modern law enforcement criminal intelligence. This introductory course addresses intelligence matters, primarily from a broader operational point of view in order to more effectively carry out the national and international counterdrug mission of disrupting, disabling, and/or dismantling drug markets, traffickers, networks, financiers, terrorists, and all conspirators who aid and abet them.
This course is a partnership with Midwest Counterdrug Training Center. Please use the link below to register.
MANTA training is provided free of charge to Law Enforcement Officers through a Governor's Crime Commission Grant and the NC National Guard Counterdrug Program.
For more information or to receive help in registering for a class, contact us at:
manta@nccounterdrug.com
984-664-7034