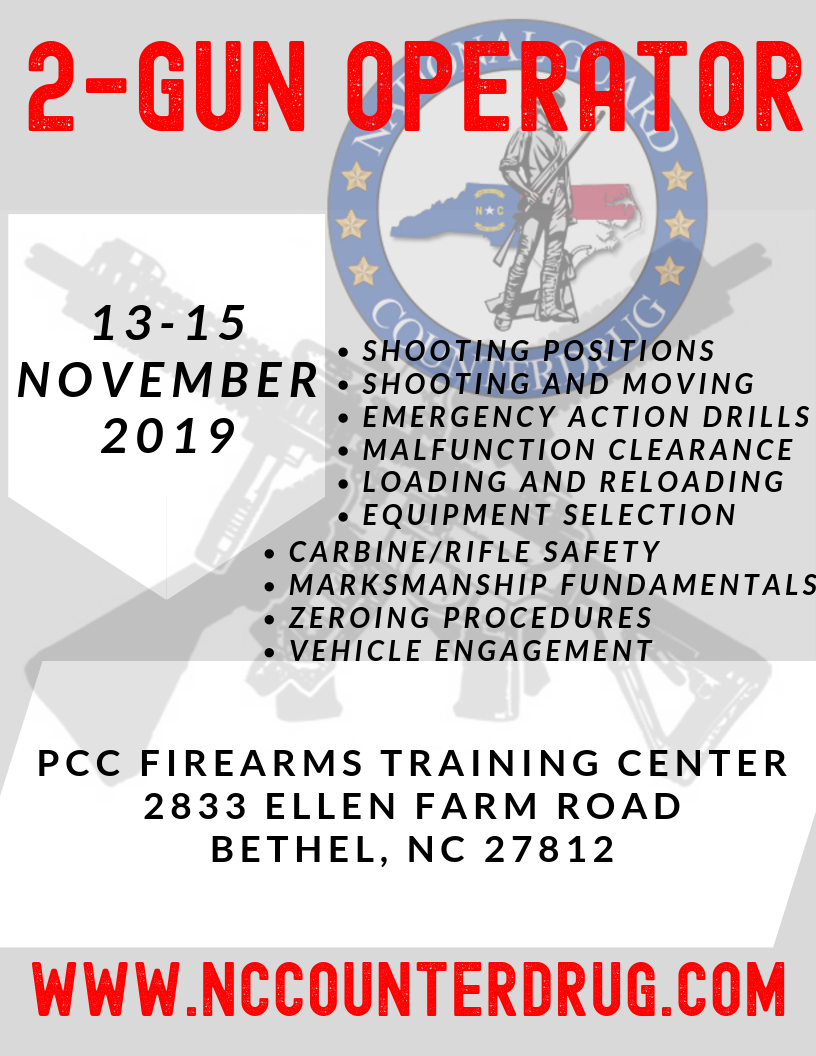 Event Phone: 984-664-7034
We're sorry, but all tickets sales have ended because the event is expired.
2 Gun Operator


13 November, 2019 - 15 November, 2019




08:00 - 17:00
2 Gun Operator: 13-15 Nov 2019
PCC Firearms Training Center
2833 Ellen Farm Road
Bethel, NC 27812
Fee:  There is no fee for this course.
Length: 3 days (24 Hours)
Designed For: Sworn law enforcement – federal, state, or local.
Prerequisites: Attendees must be sworn law enforcement
Lodging, Meals, and Incidentals: Responsibility of the officer and their sponsoring agency
Instructor:  Kevin Dylus (Blue Ridge Marksmanship)
Description:  This an intensive live fire, 3-day course that focuses on the employment of the pistol and carbine rifle.
Course curriculum includes:
Practical application drills
Shooting Positions
Shooting and moving
Emergency action drills
Malfunction clearance
Loading and Reloading techniques
Carbine and equipment selection discussion
Carbine/Rifle safety considerations
Marksmanship fundamentals
Zeroing procedures (irons/optics)
Ready positions
Vehicle engagement considerations
Sight holdover techniques
Attire & Equipment: Comfortable field attire is encouraged. This class is geared toward officers performing in their duty environment. Please feel free to wear what you work in.
AMMO: 600 Rifle, 600 Pistol
MANTA training is provided free of charge to Law Enforcement Officers through a Governor's Crime Commission Grant and the NC National Guard Counterdrug Program.
For more information or to receive help in registering for a class, contact us at:
manta@nccounterdrug.com
984-664-7034