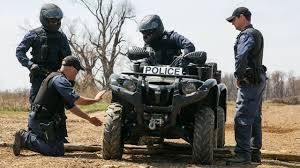 We're sorry, but all tickets sales have ended because the event is expired.
15 May, 2018 - 17 May, 2018




08:00 - 17:00
ATV/OFF-ROAD SURVIVAL AND SAFETY/POLARIS CERTIFICATION:  15-17 May 2018
Fee:  There is no fee for this course.
Location:  Duplin County Sheriff's Office Training Center – 275 Landfill Road, Rose Hill, NC 28458
Registration:  If registering more than one officer, please email with the names and business email addresses of the other officers who will be in attendance.
Length: 3 days (24 hours)
Designed For: This course is intended specifically for law enforcement officers and agencies with ATV/UTV programs.
Housing, Meals and Incidentals: Students and their sponsoring agencies are responsible for these costs.
Instructors:  42nd Civil Support Team
Prerequisites: Students must be sworn law enforcement officers with departmental ATV/UTV access or responsibility. Priority of registration is given to NC state and local civilian law enforcement officers. All participants should be in good general health and physical condition and capable of performing minimal physical skills associated with field exercises described in this course. Participants are requested to bring their agency ATV/UTV or Off-Road Vehicle(s).
Description: This basic operator's course provides interdiction officers working in rural settings with an overview of ATV/Off-Road machinery, best safety practices, and applied practice to gain increased familiarity with their agency specific vehicles, rural terrain, and navigation techniques. The course focuses on enabling the student to learn the presented tactics and techniques through classroom lessons supported by practical exercises.
Personal Protective Gear:  We ask that you provide your own PPE as supply cannot be guaranteed.
Required Equipment: Helmet, eye (goggles preferred) and ear protection, gloves, pants, long sleeved shirts, boots, camel back for water, day bag for equipment, communication equipment (portable radio and/or cell phone), flash light, and body armor (optional).
Objectives: This course prepares rural interdiction operators with planning and implementation skills for off-road maneuvers in day and low-light settings. Curriculum includes:
Pre-trip planning
Equipment familiarity: Strengths, weaknesses, and limitations
Inspection and maintenance
Basic safety techniques
Starting and stopping
Straight-Line Travel
Turning (both gradual and quick)
Backing
Negotiating Terrain
Emergency stopping and swerving
Riding over obstacles
Preventing Common Liability Issues
Recommended safety equipment
Recommended Survival Kits, Packs and Gear
Trailer Types, Weight Specifications, and towing vehicles
Trailering and un-trailering vehicles
Proper braking for various conditions
Safe Riding/Driving techniques
Weight distribution and transfer in challenging conditions
Speed control
Choosing proper gears
Turning and Stopping
Terrain assessment/ Route selection
Side-hilling: climbing and descending techniques for varying terrain
Riding/Driving techniques for hard to soft dirt, water, mud, snow and ice
Maintenance kit suggestions (tools and other supplies to always keep with the vehicle)
Field maintenance and repair basics
ATV/UTV Recovery: towing and winching
MANTA training is provided free of charge to Law Enforcement Officers through a Governor's Crime Commission Grant and the NC National Guard Counterdrug Program.
For more information or to receive help in registering for a class, contact us at:
manta@nccounterdrug.com
984-664-7649 / 984-664-7034
Address:
275 Landfill Road
,
Rose Hill
,
North Carolina
,
28458
,
United States