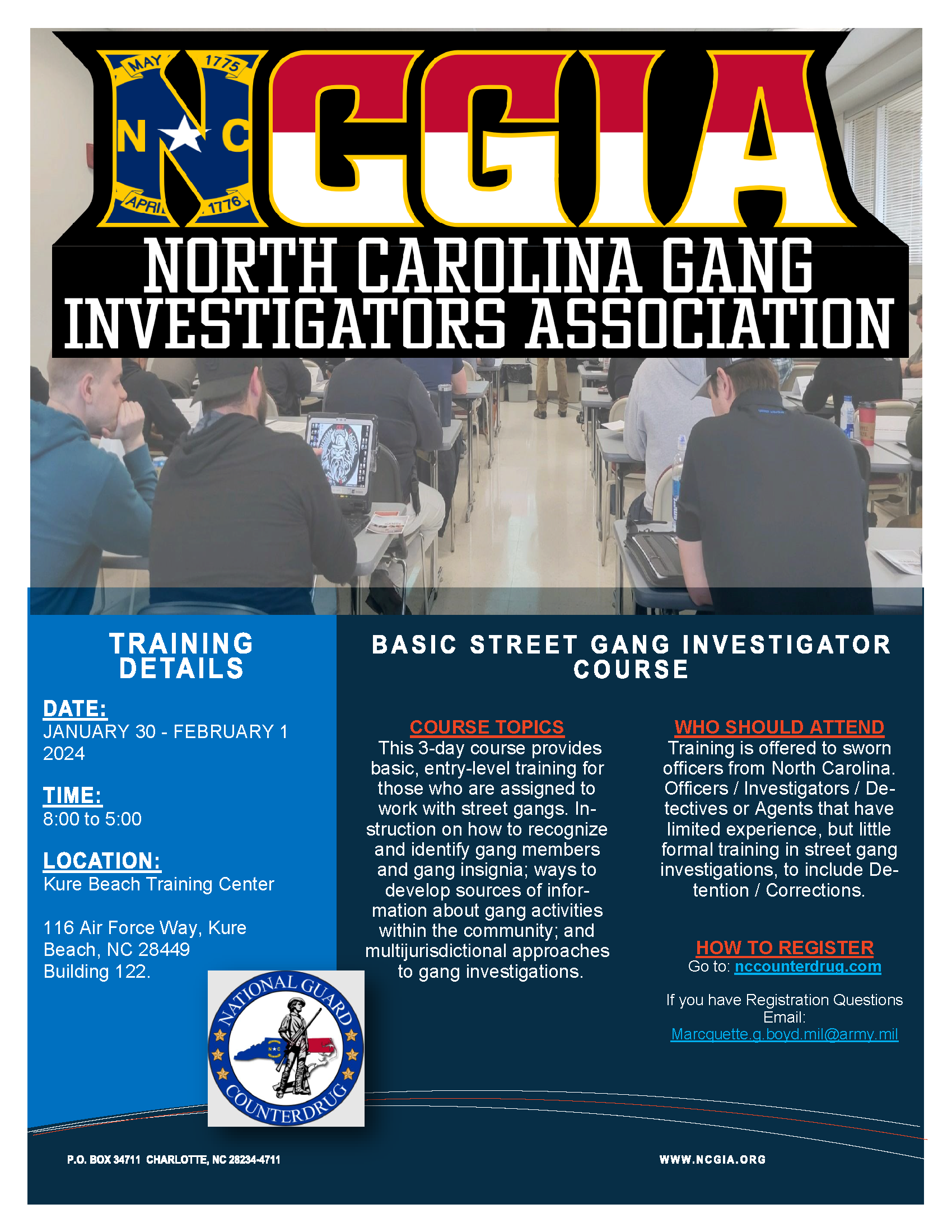 30 January, 2024 - 01 February, 2024




08:00 - 17:00
Location: Blakeslee Air Force Recreation Area 116 Air Force Way, Kure Beach, NC 28449 Building 122
Time: 8:00 TO 5:00 Daily
Fee:  There is no fee for this training
Length: 3 days (24 hours)
Meals: Agency / Individual responsibility
Lodging: Located on Blakeslee Air Force Recreation Area. Cost per person: $25/NIGHT  IND PAY/GPC CARDS
Reservations:  Individuals must contact the Reservation Office at  984-661-6015 and confirm attendance with a Credit Card at least one week prior to arrival. 
Change/Cancellation Policy:
Any changes or adjustments in group requirements or training dates must be coordinated with the NGTC by e-mail to regina.w.ireland.nfg@army.mil
Units/agencies must coordinate any changes or adjustments with the NCNGTC Reservations Office by e-mail no less than: 24 hrs before the group's arrival for lodging
Cancellations significantly affect NCNGTC's availability for other training units, as well as workforce scheduling. Accordingly, training group reservations must be cancelled not less than 14 days prior to the scheduled arrival date to avoid cancellation fees.

The AFMIS Training is scheduled at NC National Guard Training Center. The training site is located at 122 Air Force Way, Kure Beach, NC 28449. The Course Manager has scheduled lodging on Post. Bringing family members is NOT an option.

**     Check-in NET:  1600

The NGTC Staff Duty NCO is in Bldg 1100; phone number 910-538-5132.
Instructor:  NCGIA North Carolina Gang Investigators Association
Designed For: Training is offered to Sworn Officers from North Carolina. Officers / Investigators / Detectives or Agents that have limited experience, but little formal training in street gang investigations, to include Detention / Corrections.
Description: This 3-day course provides basic, entry-level training for those who are assigned to work with street gangs. Instruction on how to recognize and identify gang members and gang insignia; ways to develop sources of information about gang activities within the community; and multijurisdictional approaches to gang investigations.
MANTA training is provided free of charge to Law Enforcement Officers through a Governor's Crime Commission Grant and the NC National Guard Counterdrug Program.
For more information or to receive help in registering for a class, contact us at:
manta@nccounterdrug.com
984-664-6045/ 704-400-9960