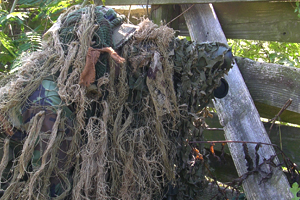 We're sorry, but all tickets sales have ended because the event is expired.
28 November, 2018 - 30 November, 2018




08:00 - 17:00
Combined Reconnaissance Operators Course 3-day: November 28-30
Camp Butner Training Center | 539 Roberts Chapel Rd., Stem, NC 27581
Fee:  There is no fee for this training
Registration:  If registering more than one officer, please email with the names and business email addresses of the other officers who will be in attendance.
Length: 3 days (24 hours)
Designed For: This course is intended specifically for law enforcement and corrections officers actively engaged reconnaissance operations.
Lodging: Barracks lodging is available at Camp Butner.
Meals and Incidentals: Students and their sponsoring agencies are responsible for meal expenses
Instructor:  Dustin Butcher
Course Description:
CROC is a course developed to educate Law Enforcement Officers (LEO) in the TTPs of both rural reconnaissance and urban reconnaissance operations. Students are taught through limited classroom lecture and evaluated based on extensive field training exercise performance. FTXs are based on real world operations. Topics include but not limited to:
Equipment selection and employment
Hide Site selection and construction (Urban/Rural Hides)
Reconnaissance mission planning
Risk Mitigation
Small unit tactics
Individual Movement Techniques
Digital Surveillance Photography
Sensory Enhancing Devices
Equipment List:
Battle Dress Uniform (Multicam, ATACS, MARPAT, Woodland etc.)
Boots (Tan, Coyote preferred)
Assault Pack (3 Day)
Hydration System
Gloves
Note Pad
Pens/Pencils
Radio
Yeti Net, Ghillie Suit, and or Ghillie Boonie (Viper Hood or home made)
Load Bearing Vest
Organizational Surveillance Equipment
Spotting Scope
Digital Camera
Binoculars
Bug Spray (Therma Cell)
Camo Face Paint
Bug Spray!
Sniper Veil
Eye Protection
Parachute cord or similar cordage
Pruning shears or portable saw
Poncho or camo tarp
Tent stakes
Rubber bands
*We understand not all students will have this full gear list. Please bring as much as possible
MANTA training is provided free of charge to Law Enforcement Officers through a Governor's Crime Commission Grant and the NC National Guard Counterdrug Program.
For more information or to receive help in registering for a class, contact us at:
manta@nccounterdrug.com
 984-664-7649/ 984-664-7034
Address:
539 Roberts Chapel Rd.
,
Stem
,
North Carolina
,
27581
,
United States
Description:

539 Roberts Chapel Rd, Stem, NC 27581