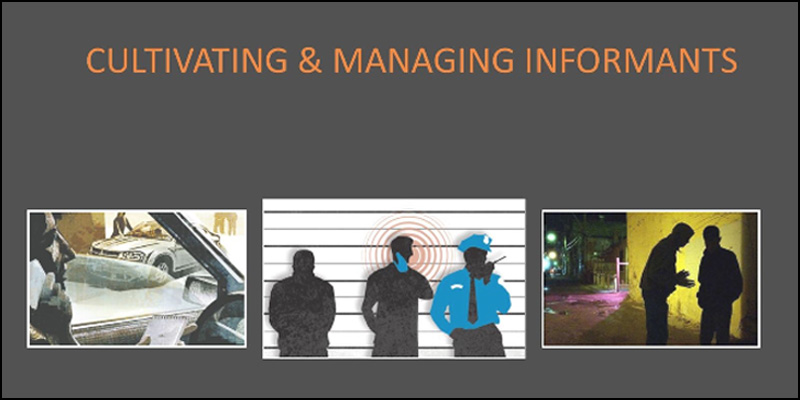 Event Phone: 984-664-7649
08 November, 2016 - 10 November, 2016




08:00 - 17:00
Register online at: http://informants.eventbrite.com
Cultivating and Managing Confidential Informants: 8-10 November, 2016
Samarcand Training Academy | Jackson Springs, NC
Length: 3 days (24 hours)
Designed For: This course is intended specifically for law enforcement narcotics officers utilizing confidential informants.
Housing and Meals: Housing and meals will be provided at no cost to the first 24 registrants.
Prerequisites: Students must be sworn law enforcement officers or currently serving in a law enforcement capacity as a member of the United States Armed Forces. Priority of registration is given to state and local civilian law enforcement officers.
Description: This course is designed to prepare law enforcement officers to develop, properly use, and manage reliable confidential drug informants.
Course Topics:
Acquiring drug informants
Determining an informant's potential and how to work them to their greatest potential
Developing and reviewing departmental drug informant policies and files
Developing strategies to safely conduct undercover operations involving drug informants
Minimizing the possibility of revealing an informant's identity
MANTA training is provided free of charge to Law Enforcement Officers through a Governor's Crime Commission Grant and the NC National Guard Counterdrug Program.
For more information or to receive help in registering for a class, contact us at:
manta@nccounterdrug.com
984-664-7649
984-664-7034
Department of Public Safety , Live Fire Range
Venue Phone: 910-673-0651
Venue Website: http://www.ncdps.gov/About-DPS/Sections/Administration/Samarcand-Training-Academy
Address:
3600 Samarcand Road
,
Jackson Springs
,
North Carolina
,
27281
,
United States
Description:

Occupying 430 acres in Moore County, Samarcand Training Academy provides correctional, in-service, law enforcement and advanced law enforcement training.
A 2013 North Carolina General Assembly allocation of $10.4 million has been used to convert the former Samarkand Manor into a corrections and law enforcement training center for the Department of Public Safety. Samarcand has six classrooms, dormitory space capable of housing overnight students, and a cafeteria.
The primary purpose of the academy is to conduct basic training for correctional officers, probation/parole officers and juvenile justice employees, as well as other in-service training.  The law enforcement agencies within DPS will be able to use Samarcand to conduct in-service and advanced training programs, while other local, state and federal agencies may also conduct training at the facility from time to time.