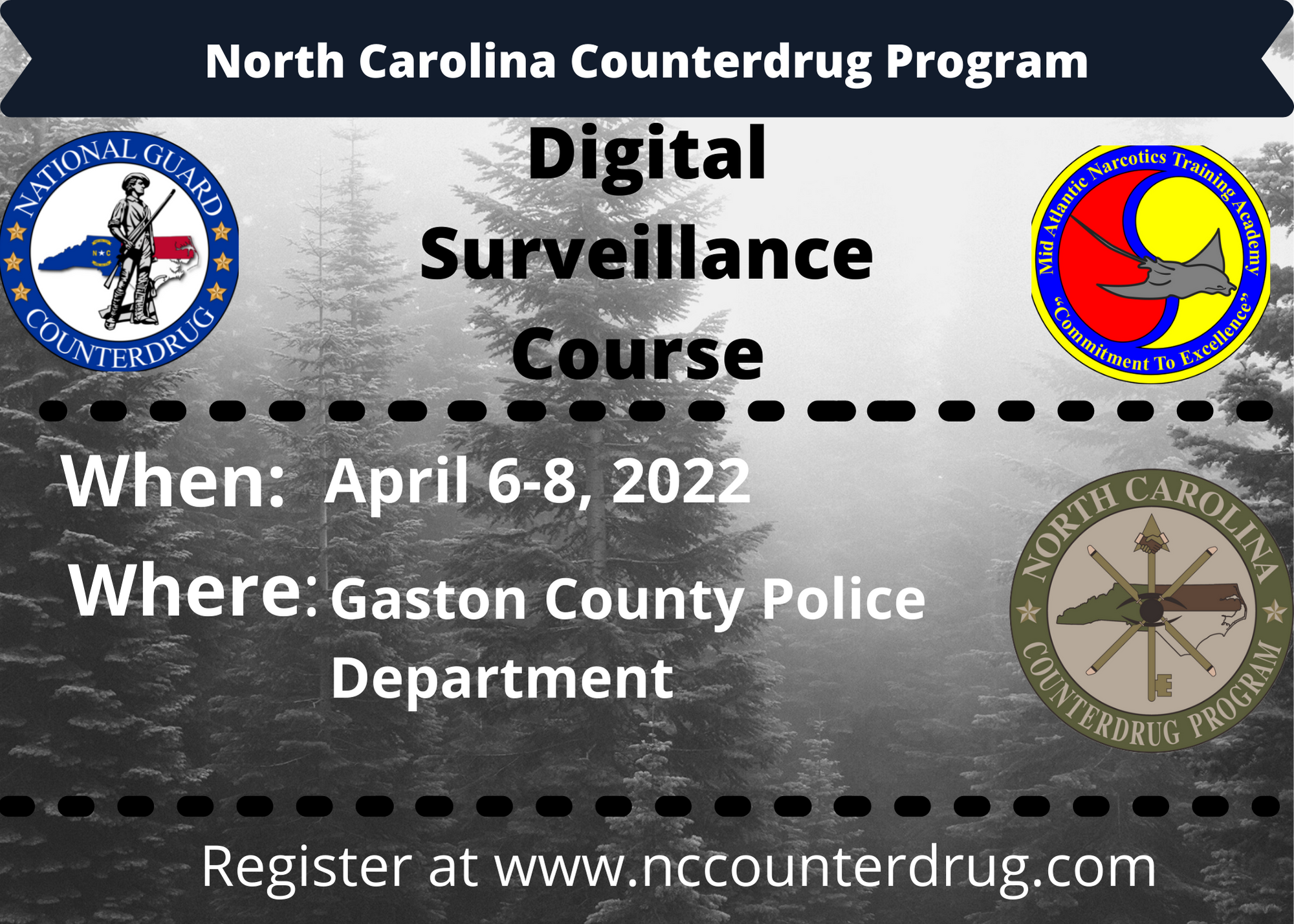 We're sorry, but all tickets sales have ended because the event is expired.
06 April, 2022 - 08 April, 2022




08:00 - 17:00
Digital Surveillance Course: APR 6-8, 2022
LOCATION: Gaston County Police Department
420 W Franklin Blvd, Gastonia, NC 28052
Fee:  There is no fee for this course.
Length: 3 days (24 Hours)
Designed For: Sworn law enforcement – federal, state, or local.
Lodging, Meals and Incidentals:  Responsibility of the Officer and their sponsoring agency
Instructor: Tomasz Chmielewski
Description: This course will cover the use of digital imagery equipment during static and mobile physical surveillance operations in both rural and urban environments. The course commences with classes on digital imagery equipment, introducing students to basic and advanced photography/ videography concepts allowing students to capture imagery during day/ night operations at distances up to 300 meters. Stay behind systems, the use of off the shelf technology (drones, cell phones etc.) and developing methods for incorporating said technology into real world operations is also covered. Day two and three utilize practical exercises to solidify an operational understanding of concepts that are taught.
1. Gain an in-depth understanding of how digital cameras (DSLR/ Mirrorless) work, allowing for manual photography under all meteorological conditions, during day and night operations.
2. Develop ability to capture digital imagery from static and mobile platforms
3. Develop ability to capture illegal acts through digital means
4. Develop ability to capture operationally usable imagery at extended ranges (300 meters +)
5. Use common video/ photography tools (phones, drones, home security cameras) to capture operational footage while blending in with the population
6. Develop planning methodologies to successfully plan operations with significant "unknowns"
7. Develop understanding of digital imagery limitations as they relate to identifying individuals/ acts under various conditions.
MANTA training is provided free of charge to Law Enforcement Officers through a Governor's Crime Commission Grant and the NC National Guard Counterdrug Program.
For more information or to receive help in registering for a class, contact us at:
manta@nccounterdrug.com
984-664-7034/ 919-724-0629