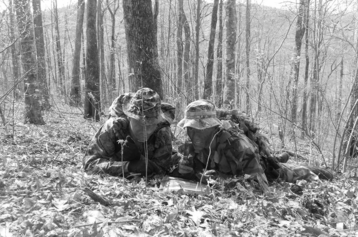 We're sorry, but all tickets sales have ended because the event is expired.
HRWO


10 April, 2019 - 12 April, 2019




08:00 - 17:00
High-Risk Woodland Operations: April 10-12, 2019
Samarcand Training Academy I 3600 Samarcand Road, Jackson Springs, NC 27281
Fee:  There is no fee for this course.
Length: 3 days (24 Hours)
Designed For: Corrections officers and sworn law enforcement – federal, state, or local.
Lodging, Meals and Incidentals:  Samarcand Academy provides lodging and meals at no cost to students. Students must stay in overnight lodging to be eligible for meals. Event registration will close 29 March 2019 in order to allow the facility adequate time to properly plan and prepare for student arrival.
Instructor:  Pat Patten (Tactical Woodland Operations School)
Description: This course trains the officer/team to respond to and control high-risk incidents that occur in a woodland or rural environment. The student will receive instruction in the application of visual tracking, individual and team movement, equipment, camouflage, land navigation, clearing danger areas, arrest tactics, operational planning, and patrol tactics. Each of our instructors has extensive field experience in high-risk woodland operations. A variety of training methodology is used in the course including classroom lecture, drills, field exercises and case study.
NOTE: THIS IS A PHYSICALLY DEMANDING CLASS AND REQUIRES THE STUDENT TO BE PREPARED FOR STRENUOUS FIELD WORK IN VARYING ENVIRONMENTAL CONDITIONS
Attire & Equipment: .
Long gun with sling
Any tactical gear to be used in woodland ops
Camouflage BDU shirts, pants, head net, camo gloves
Field jacket
Gloves
Warm head gear
Boonie hat
Rain gear
Hydration pack system
High top boots
Binoculars
Flashlight
Small red light or light with red, blue, yellow or green filter
Small first aid kit with Mole skin
Sun screen
Fire starter
Signal mirror
Eye protection
Optional:
GPS unit
Compass
Hand held department radio
MANTA training is provided free of charge to Law Enforcement Officers through a Governor's Crime Commission Grant and the NC National Guard Counterdrug Program.
For more information or to receive help in registering for a class, contact us at:
manta@nccounterdrug.com
984-664-7034/ 919-724-0629
Department of Public Safety , Live Fire Range
Venue Phone: 910-673-0651
Venue Website: http://www.ncdps.gov/About-DPS/Sections/Administration/Samarcand-Training-Academy
Address:
3600 Samarcand Road
,
Jackson Springs
,
27281
,
United States
Description:

Occupying 430 acres in Moore County, Samarcand Training Academy provides correctional, in-service, law enforcement and advanced law enforcement training.
A 2013 North Carolina General Assembly allocation of $10.4 million has been used to convert the former Samarkand Manor into a corrections and law enforcement training center for the Department of Public Safety. Samarcand has six classrooms, dormitory space capable of housing overnight students, and a cafeteria.
The primary purpose of the academy is to conduct basic training for correctional officers, probation/parole officers and juvenile justice employees, as well as other in-service training.  The law enforcement agencies within DPS will be able to use Samarcand to conduct in-service and advanced training programs, while other local, state and federal agencies may also conduct training at the facility from time to time.