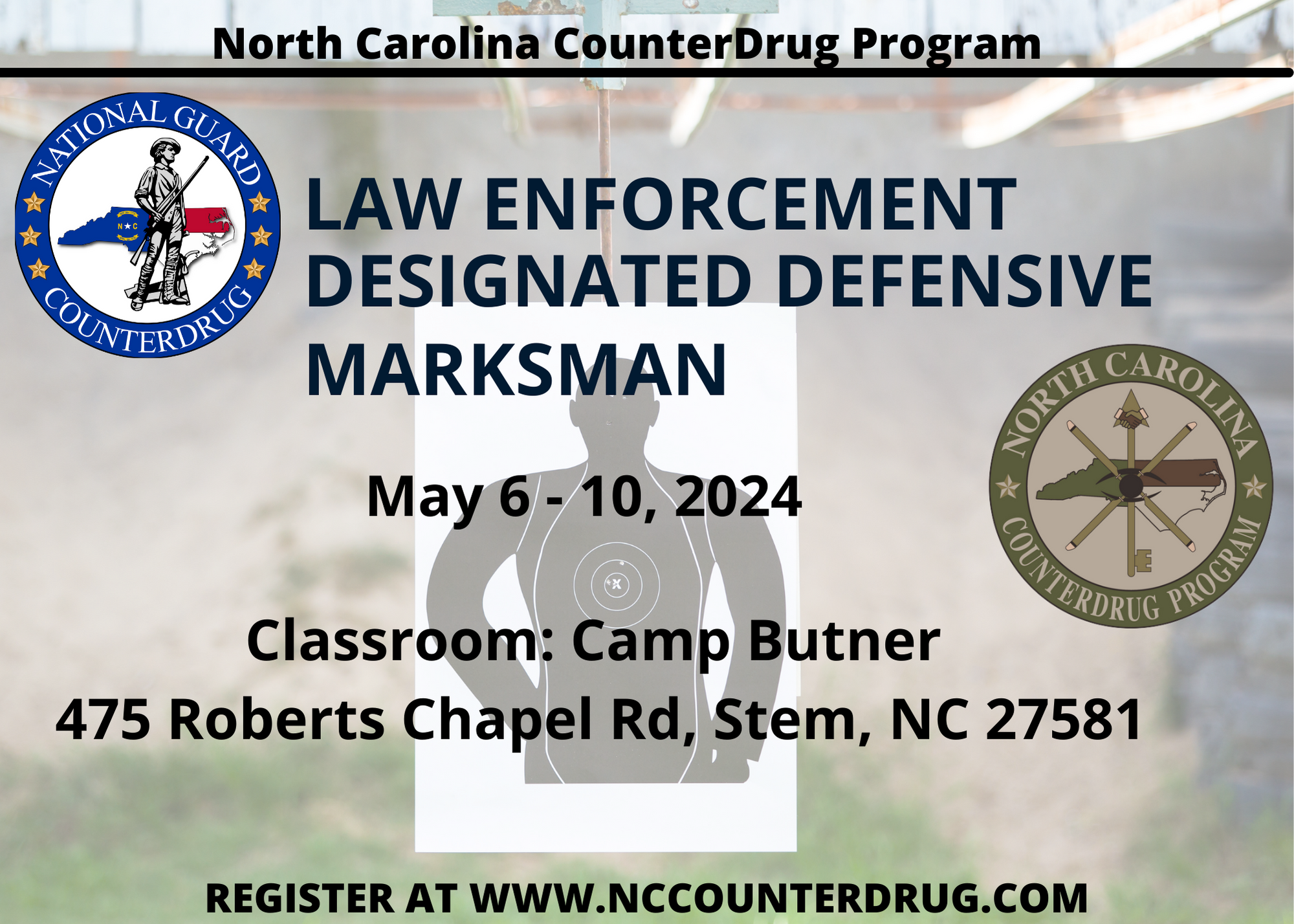 06 May, 2024 - 10 May, 2024




08:00 - 17:00
Law Enforcement Designated Defensive Marksman
Location: Camp Butner Training Facility 539 Roberts Chapel Rd Stem, NC 27581
Time: May 6 – 10 2024 | 8am – 5pm
Fee:  There is no fee for this training
Meals:  Agency / Individual responsibility
Lodging: Provided by CBTC
Designed For: Sworn North Carolina Law Enforcement Officers
Prerequisites: Students must be sworn law enforcement officers or currently serving in a law enforcement capacity as a member of the United States Armed Forces. The priority of registration is given to NC state and local civilian law enforcement officers. All participants should be in good general health and physical condition and capable of performing minimal physical skills associated with field exercises described in this course.
Ammo: Officers should strive to bring 600 rounds for their shooting platform. We understand if some departments are not be able to meet this amount. 
Description: The 5-day Law Enforcement Marksmanship training course is designed to train officers from various law enforcement agencies to employ high-powered precision rifles. Participants will be trained in the areas listed below.
Ballistics
Data Book
Shooter/Spotter Communication
MIL vs. MOA Reticle
Range Estimation
Unknown Distance
Shooting Positions
Observation
MANTA training is provided free of charge to Law Enforcement Officers through a Governor's Crime Commission Grant and the NC National Guard Counterdrug Program.
For more information or to receive help in registering for a class, contact us at:
manta@nccounterdrug.com
984-664-6045/ 704-400-9960