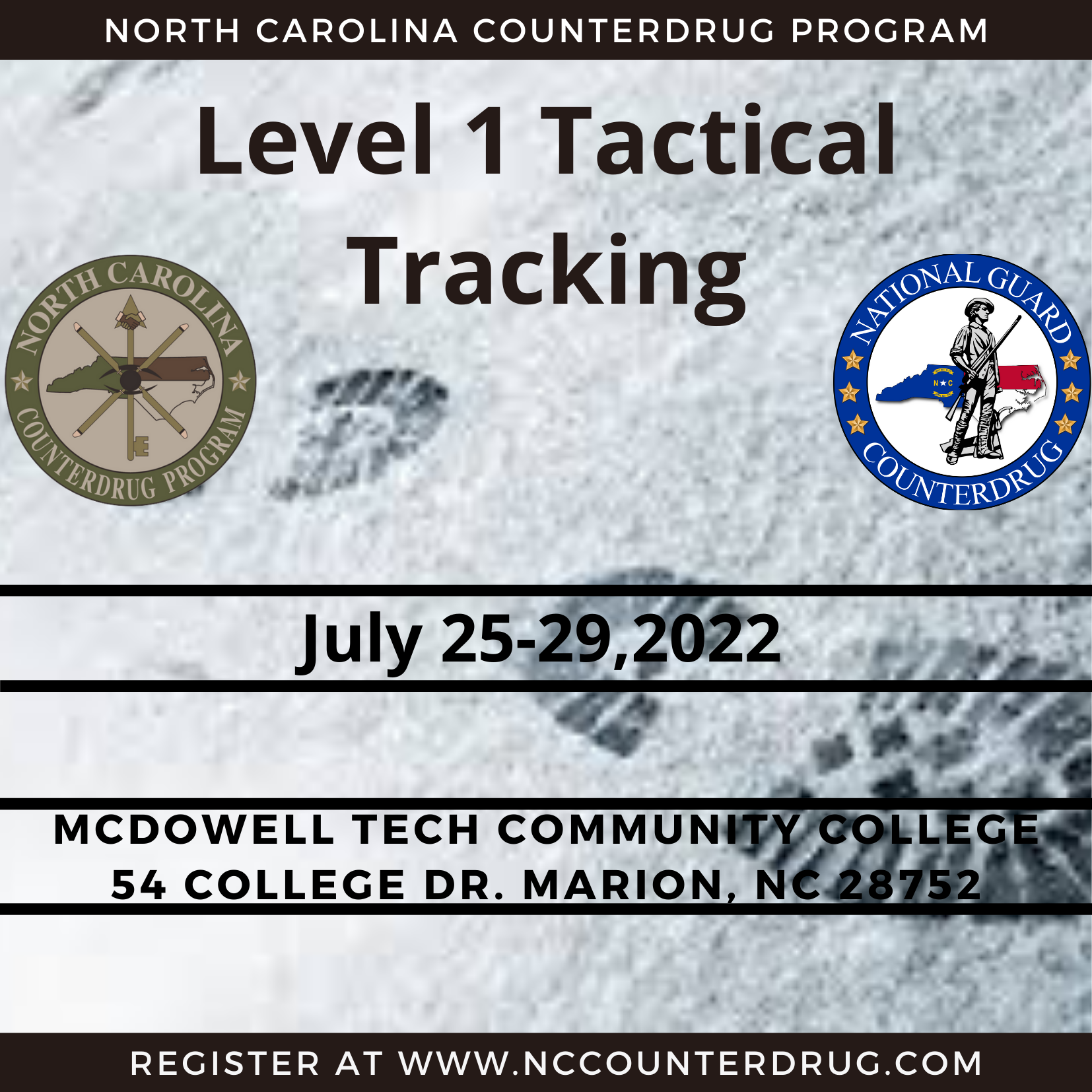 We're sorry, but all tickets sales have ended because the event is expired.
25 July, 2022 - 29 July, 2022




08:00 - 17:00
Instructor: Mike Hull,  www.Hull'sTrackingSchool.com
Location: 54 College Dr. Marion, NC 28752
Welcome to Tactical Tracking
Be prepared to spend 70% of your time in the field regardless of weather conditions. This is a tactical course involving strenuous activity so you must be reasonably fit to participate.
Materials needed consist of;
Issued long gun
Field uniform-camouflage or plain colored  (not black)
Hat (preferably bonnie style)
Boots  (must be broken in well)
Water bladders or canteens
Rain gear
Bug spray and sunscreen
Binoculars
GPS,& or compass
Load bearing or tactical vest, daypack, or fanny pack
Camo face paint or head net and gloves
Personal first aid equipment.
First two days builds individuals basic tracking knowledge and skills
Ability to properly articulate tracking and foot impression evidence in a court of law
Determine number of persons involved
May disprove an incident even happened all together
Determine or eliminate suspects at the scene by Finding,
Documenting and Interpreting Footprint Evidence
Find and/or Eliminate Directions of Travel
Extend Crime Scenes
Find Evidence away from the scene
Perimeter security
Intelligence gathering/reconnaissance
Search and Rescue
Effective in Recovering armed and dangerous fugitives in rural areas
Tracking compliments and enhances a canine handler's mission. *The lack of tracks is evidence in itself
Tactical acuity has been proven more effective in finding trip wires and IED's than all the current technology in use.
Anti-tracking techniques may be used for: counter tracking, hiding remote intelligence gathering equipment, recon operations, sniper hides and surveillance sites,
A basic knowledge of tracking and foot impression evidence aids in; prompting confessions, provides physical evidence for convictions and enhances Officer Safety.
We can all be taught the value of tracks, tracking and basic tracking skills to some degree; to become a "Tracker" takes time and commitment the same as any other specialized skill.
Day three through five students learn to track as a team in a tactical situation. 
Most effective and safest techniques for locating dangerous subjects in a rural environment
Rules of a tactical team
Preliminary onsite investigations
Formations and zones of responsibility
Team movements
Hand signals
Encounter action drills
Characteristics of the cover shoot
Team lost spoor procedures
Mike Hull
171 River View Lane
Faber VA 22938
www.HullsTrackingSchool.com < Caution-http://www.VITALELLC.com >
cell   434 996 3639
MANTA training is provided free of charge to Law Enforcement Officers through a Governor's Crime Commission Grant and the NC National Guard Counterdrug Program.
For more information or to receive help in registering for a class, contact us at:
manta@nccounterdrug.com
984-664-6045/704-400-9960