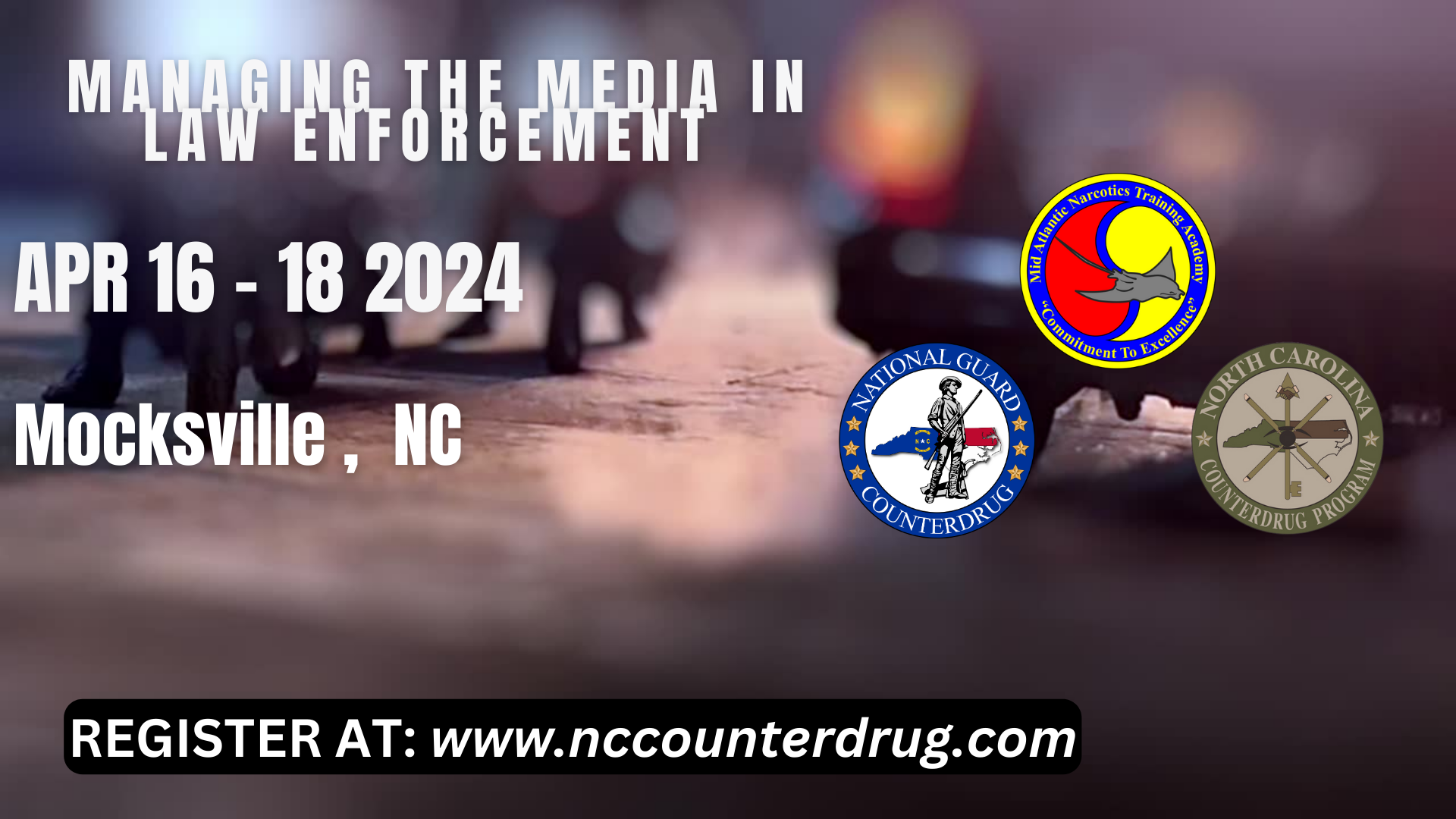 16 April, 2024 - 18 April, 2024




08:00 - 17:00
Location: Davie County Sheriff's Office 132 Government Center Dr, Mocksville, NC 27028
Fee: There is no fee for this training
Length: 3 days (24 Hours)
Designed For: Sworn law enforcement- federal, state, or local
Meals, Lodging, and Incidentals: Students and their sponsoring agencies are responsible for these expenses.
Instructor: Rob Tufano
Description
The Managing the Media in Law Enforcement course was developed for law enforcement supervisors, executives, and public information officers. The course is highly interactive and scenario-based. It provides participants with practical experience to strategically communicate on-camera in preparation for press conferences, media interviews, social media appearances, and public speaking events. The development course includes relevant subject matter involving police-media relations and how that relationship has a critical impact on community perception and trust of law enforcement agencies. A variety of topics, strategies, and exercises will be delivered throughout the course that will prepare participants to strategically communicate to the community, through both social media and the conventional press. The course examines challenges law enforcement leaders encounter in the areas of crisis management and how those challenges influence community perception and support. The course analyzes the state of contemporary media and its impact on law enforcement by examining key factors influencing reportorial and editorial coverage. Practical and scenario-based exercises, along with information sharing and discussion within the class will provide the opportunity for course participants to understand issues from a variety of perspectives in the pursuit of professional development.
Prerequisites
Students must be sworn law enforcement officers or currently serving in a law enforcement capacity as a member of the United States Armed Forces. The priority of registration is given to NC state and local civilian law enforcement officers. All participants should be in good general health and physical condition and capable of performing minimal physical skills associated with field exercises described in this course.
MANTA training is provided free of charge to Law Enforcement Officers through a Governor's Crime Commission Grant and the NC National Guard Counterdrug Program.
For more information or to receive help in registering for a class, contact us at:
manta@nccounterdrug.com
984-664-6045/ 704-400-9960