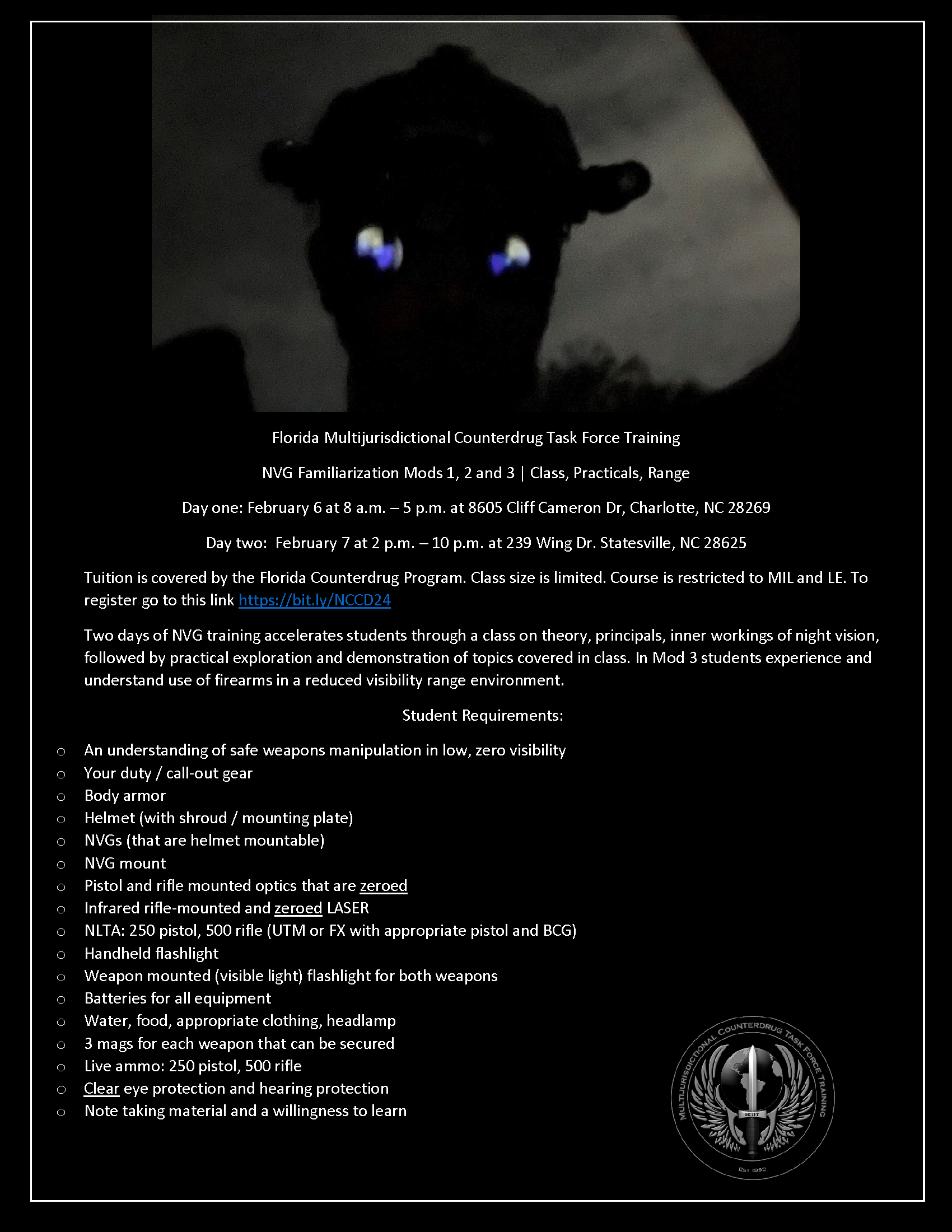 06 February, 2024 - 07 February, 2024




08:00 - 17:00
Location: 8605 Cliff Cameron Dr, Charlotte, NC 28269
Day 2 will be located at 239 Wing Dr. Statesville, NC 28625
Length: February 6 – 7 | 8am – 5pm (Course will run until 930pm on Feb 7)
Fee:  There is no fee for this training
Meals / Lodging:  Agency or Individual responsibility
Description: Two days of NVG training accelerates students through a class on theory, principles, use, and inner workings of night vision goggles, followed by practical exploration of topics covered in class. Mod 3 provides students the experience and understanding of how to use all visible and infrared energy tools on the flat range.
Recommended to use your duty gear. Course requires students to bring:
100% understanding of safe weapons manipulation in low, zero visibility
Body Armor
Helmet
NVGs (that are helmet mountable)
Pistol and rifle mounted optics that are zeroed
Infrared rifle mounted LASERs
Handheld Flashlight
Weapon mounted flashlight for both weapons
Batteries for all equipment
Water, food, appropriate clothing, headlamp
3 mags for each weapon that can be secured with retention
500 rds Pistol, 1000 rds Rifle
Clear eye protection and hearing protection
Tuition is covered by the Florida Counterdrug Program. Class size is limited. Course is restricted to MIL and LE. To register go to this link https://bit.ly/NCCD24
MANTA training is provided free of charge to Law Enforcement Officers through a Governor's Crime Commission Grant and the NC National Guard Counterdrug Program.
For more information or to receive help in registering for a class, contact us at:
manta@nccounterdrug.com
984-664-6045/ 704-400-9960