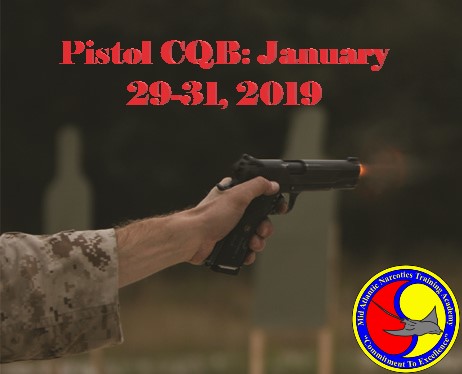 Event Phone: 984-664-7649
We're sorry, but all tickets sales have ended because the event is expired.
29 January, 2019 - 31 January, 2019




08:00 - 17:00
Pistol Close Quarters Battle:  January 29-31, 2019
Oak Grove Tactical Training Center | 158 Rushing Road, Hoffman, NC 28347
Registration: Please include email and phone for each individual officer, more detailed info about course logistics will be sent out prior to course start. Accuracy of contact info is critical.
Length: 3 days (24 hours)
Lodging: Provided on site at Oak Grove Training Center for the night of the 29th and 30th. If you would like to arrive a night prior to course start, lodging will be at the students expense.
Meals and Incidentals: Students and their sponsoring agencies are responsible for meal expenses.
Fee: There is no fee for this training
Instructor: Oak Grove Cadre
Prerequisites: Students must be sworn law enforcement officers or currently serving in a law enforcement capacity as a member of the United States Armed Forces. Priority of registration is given to NC state and local civilian law enforcement officers. All participants should be in good general health and physical condition.
Course Information:
Description: This course is a law enforcement tactical course designed to instruct the student in techniques applicable to high risk entry against armed suspects. The course will focus on the primary weapon of LEO's, the pistol.  The students will learn through minimal classroom lessons, supported by live fire ranges and practical exercises. Practical exercises are decision oriented, requiring analysis during stressful missions in armed 'force on force' simunitions scenarios.
Pistol Refresher
Pistol Techniques
Weapons Manipulation
Movement Drills
Live Fire
Structure Approach
Structure Clearing Operations (1 and 2 man)
Structure Entry Methods
Force on Force Simunition
125 Rounds of 9mm or .40 Cal will be supplied to each student. We do not supply uncommon calibers such as .45 or .357 Sig. We suggest each student have a total of 300-350 rounds. Please bring some extra in addition to what we can supply. If you are shooting anything besides 9mm or .40 Cal, your ammo will have to be supplied by your sponsoring agency.
Recommended Equipment: Eye and ear protection, day bag for equipment, communication equipment (portable radio and cell phone), duty sidearm, and tactical light. Attire should be tactical or that of an undercover officer.
MANTA training is provided free of charge to Law Enforcement Officers through a Governor's Crime Commission Grant and the NC National Guard Counterdrug Program.
For more information or to receive help in registering for a class, contact us at:
manta@nccounterdrug.com
 984-664-7649
Venue Website: http://www.oakgrovetech.com/oak-grove-training-center
Address:
158 Rushing Road
,
Hoffman
,
28347
,
United States
Description:

The Oak Grove Training Center allows us to create an unparalleled training experience. This 200-acre training center, located adjacent to Camp Mackall, NC, includes several unique features including a 16 man bunk house on site, fire pit, and grill. The training accommodations include several live fire ranges, breaching house, simunition training house with movable walls, and an on site classroom.