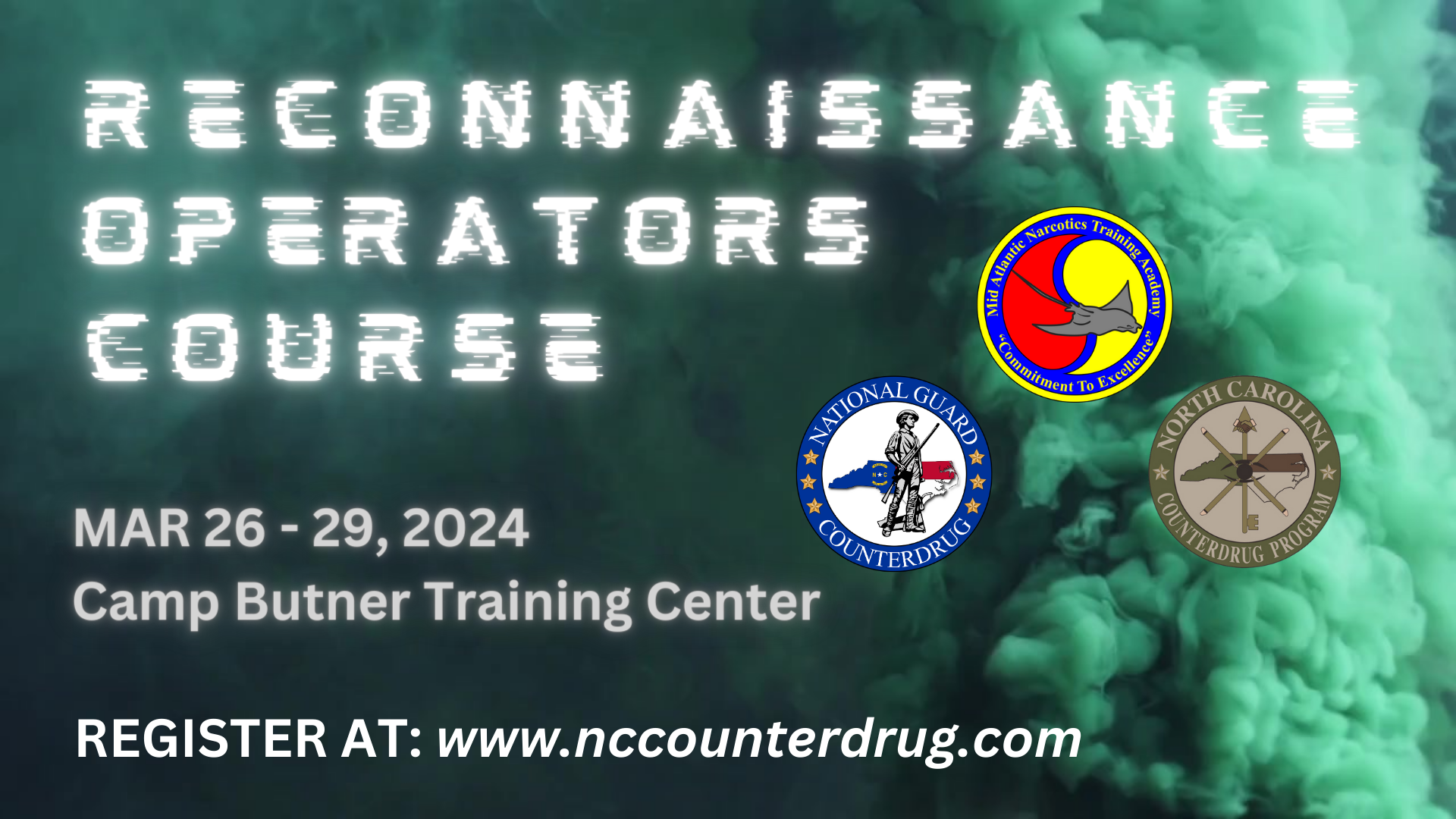 26 March, 2024 - 29 March, 2024




08:00 - 17:00
Reconnaissance Operators Course: MAR 26-29, 2024
LOCATION: Camp Butner Training Center 539 Roberts Chapel Rd, Stem, NC 27581
Fee: There is no fee for this course.
Length: 4 days (40 Hours)
Designed For: Sworn law enforcement – federal, state, or local.
Lodging: Provided by Camp Butner 
Meals and Incidentals:  Responsibility of the Officer and their sponsoring agency
Instructor: NC Counterdrug
Description: This course is designed to provide officers with best practices on how to operate in rural and urban environments while collecting information critical to case construction. Officers will conduct multiple field exercises to demonstrate knowledge and skill level of each task.
Digital camera familiarization
Camouflage principles
Urban hide sites
Rural hide sites
Stalk lanes
Culminating exercise
Equipment: This is a list of equipment that will be used during the course. Additional equipment will be provided by instructors for training purposes.
DSLR / Mirrorless Camera (Optional)
Ghillie suit or Ghillie making Material
Sterile camo pattern uniform (used during FTXs)
Binoculars or Monocular
Bug Spray
Fish netting (found at Hobby Lobby for building ghillie suits and sniper blinds)
Water Source
Individual First Aid Kit
Note taking material
MANTA training is provided free of charge to Law Enforcement Officers through a Governor's Crime Commission Grant and the NC National Guard Counterdrug Program.

For more information or to receive help in registering for a class, contact us at:
manta@nccounterdrug.com
984-664-6045/ 704-400-9960