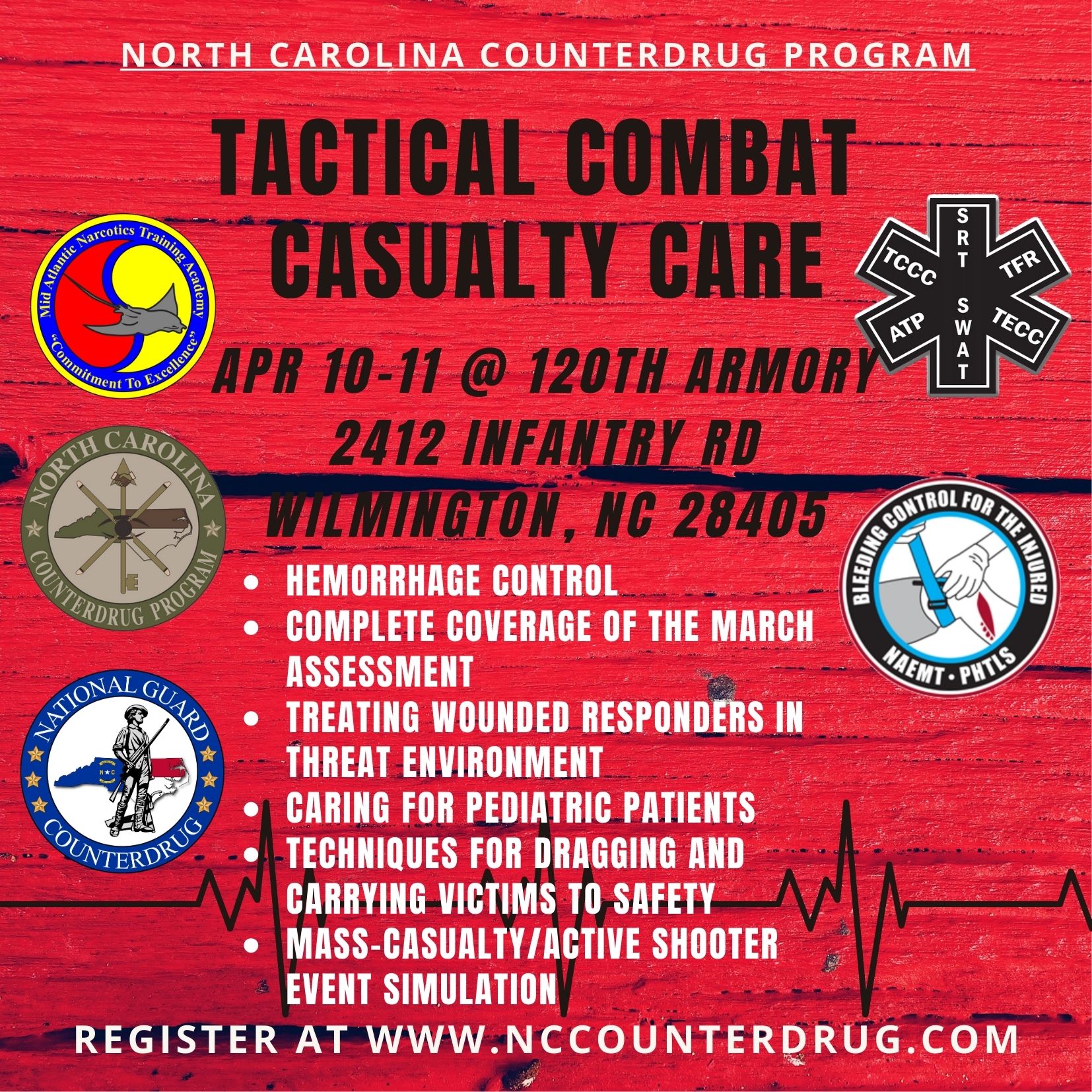 10 April, 2024 - 11 April, 2024




08:00 - 17:00
TACTICAL COMBAT CASUALTY CARE: April 10-11, 2024
Location:  120th NG Armory 2412 Infantry Rd Wilmington, NC 28405
Fee: There is no fee for this training
Length: 2 days (16 hours)
Designed For: Non-medically trained personnel from patrol officers to SWAT officers/operators
Meals, Lodging, and Incidentals: Students and their sponsoring agencies are responsible for these expenses.
Instructor: Advanced Tactical Provider
Prerequisites: Students must be sworn law enforcement officers or currently serving in a law enforcement capacity as a member of the United States Armed Forces. The priority of registration is given to NC state and local civilian law enforcement officers. All participants should be in good general health and physical condition and capable of performing minimal physical skills associated with field exercises described in this course.
Description: TCCC is a set of best practice treatment guidelines for trauma care in the high threat pre-hospital environment. These guidelines are built upon critical lessons learned by the US and allied military forces over the multiple years of conflict. They are appropriately modified to address the specific needs of civilian populations and civilian First Responders. This includes pediatric, geriatric, and special needs patients as well as considerations for underlying medical conditions common in a civilian population, and limitations of civilian EMS and the varied types of threats that all First Responders face.
MANTA training is provided free of charge to Law Enforcement Officers through a Governor's Crime Commission Grant and the NC National Guard Counterdrug Program.
For more information or to receive help in registering for a class, contact us at:
manta@nccounterdrug.com
984-664-6045 / 704-400-9960