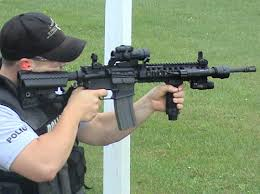 We're sorry, but all tickets sales have ended because the event is expired.
08 August, 2017 - 09 August, 2017




08:00 - 17:00
Patrol Rifle Course:  8-9 August 2017
Length:  2 days (16 Hours)
Location:  Blue Ridge Marksmanship – 827 Roaring Fork Road, Burnsville, NC 28714
Designed For:  Sworn law enforcement officers and agents of any federal, state, or local agency with arresting or detaining power. Priority of seating is given to Narcotics agents and officers.
Prerequisites:  Attendees must be sworn law enforcement
Description:  This comprehensive 2-day firearms training course introduces the student to the AR-15 / M-4 rifle. During this course, students will learn about one of the most popular weapon systems that law enforcement agencies across the country are authorizing for patrol duty use.
Students will train with the AR-15 / M-4 rifle and learn basic gun-handling skills necessary to safely operate and maintain this weapon system, in addition to deployment and application for personal defense.
Course Curriculum includes:
Nomenclature
Disassembly and reassembly
Mechanical operation
Care and preventive maintenance
Zeroing iron sights and electronic sights
Movement
Multi-threat engagement
Shooting positions
Support hand and one-handed firing
Tactical and emergency reloading
Attire & Equipment to Bring for Participants: Comfortable field attire is encouraged. This class is geared toward the Officer performing in their duty environment.
Course will be conducted at Blue Ridge Marksmanship
MANTA training is provided free of charge to Law Enforcement Officers through a Governor's Crime Commission Grant and the NC National Guard Counterdrug Program.
For more information or to receive help in registering for a class, contact us at:
manta@nccounterdrug.com

984-664-7649
984-664-7034