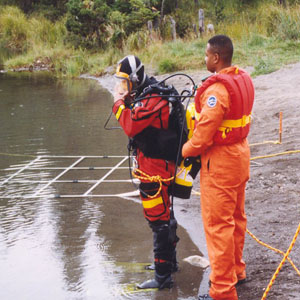 Event Phone: 984-664-7649
We're sorry, but all tickets sales have ended because the event is expired.
11 June, 2018 - 15 June, 2018




08:00 - 17:00
UNDERWATER CRIME SCENE INVESTIGATIONS:  11-15 June 2018
Fee:  There is no fee for this course
Registration:  If registering more than one officer, please email with the names and business email addresses of the other officers who will be in attendance.
Location: NCNG Joint Forces Headquarters – 4105 Reedy Creek Road, Raleigh, NC 27607 (Classroom and dive portions of this class will be hosted in Raleigh, NC)
Length:  5 days (40 hours)
Designed For: This course is intended specifically for law enforcement officers and agencies looking to establish or bolster their technical diving programs or investigations teams.
Housing: Housing is not provided for registrants. However, the Ramada Inn – Blue Ridge offers the state per diem rate for law enforcement students.
Meals and Incidentals: Students and their sponsoring agencies are responsible for meal costs.
Instructors:  Wes Foster and Tanya Chapman
Prerequisites: Students must be sworn law enforcement officers. Priority of registration is given to NC state and local civilian law enforcement officers. Students should have SDI or equivalent dive certification and posses standard dive equipment. All participants should be in good general health and physical condition and capable of performing minimal physical skills associated with the diving exercises described in this course.
Description:  The ERDI Underwater Crime Scene Investigations Program provides an understanding of the skills and techniques used in performing underwater crime scene investigations, evidence collection and preservation, and documentation for courtroom testimony.
This course will cover:
Investigative Duties on Scene
Scientific Diving Techniques (Aquatic Environments, Locating and Marking Sites, Search Patterns)
Determining Scene Boundaries
Documenting the Scene
Underwater Search Techniques (ROV, AUV, Diver Held Sonar, Side Scan, Search Patterns)
Evidence Recovery (Types of evidence, Collection and Preservation, Skeletal Remains Recovery, Body Recovery Reporting Procedures, Fire Arms Recovery, Vehicle Recovery, Court Testimony)
MANTA training is provided free of charge to Law Enforcement Officers through a Governor's Crime Commission Grant and the NC National Guard Counterdrug Program.
For more information or to receive help in registering for a class, contact us at:
manta@nccounterdrug.com
984-664-7649 / 984-664-7034
Address:
4105 Reedy Creek Road
,
Raleigh
,
North Carolina
,
27607
,
United States
Description:

Built in 1965 and officially dedicated as the "Claude T. Bowers National Guard Center" in 1981, this 75,000 sq ft facility includes a drill hall, offices for Guard administrative personnel, maintenance shops, and a distance education classroom equipped with computers and internet access. It was here that the National Guard provided essential services to the citizens of North Carolina amongst years of war and natural disasters until a the new Joint Force Headquarters and Emergency Operations Center was built in 2012.